STEL-ANK-SUPER devices – modern generation of STEL devices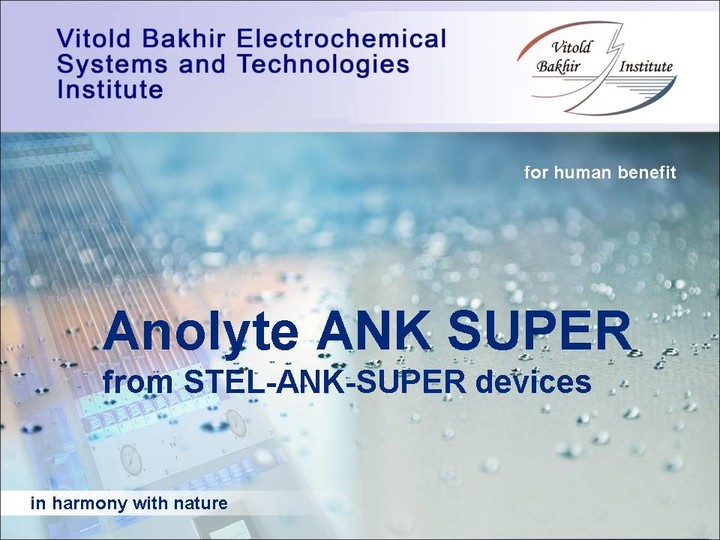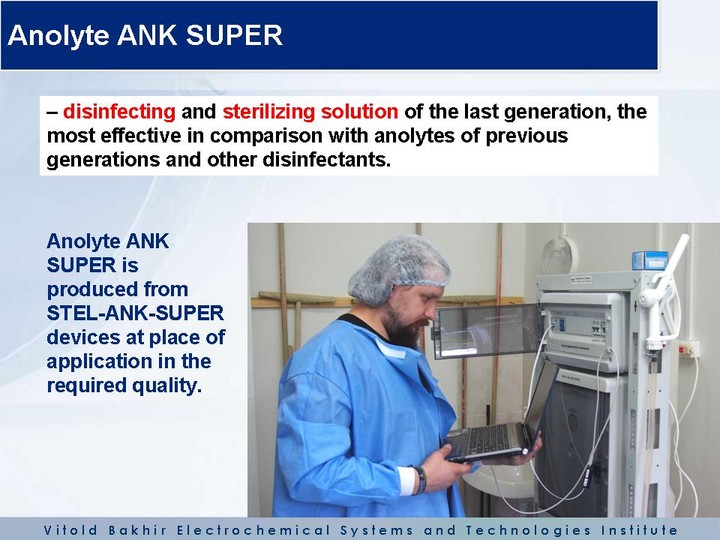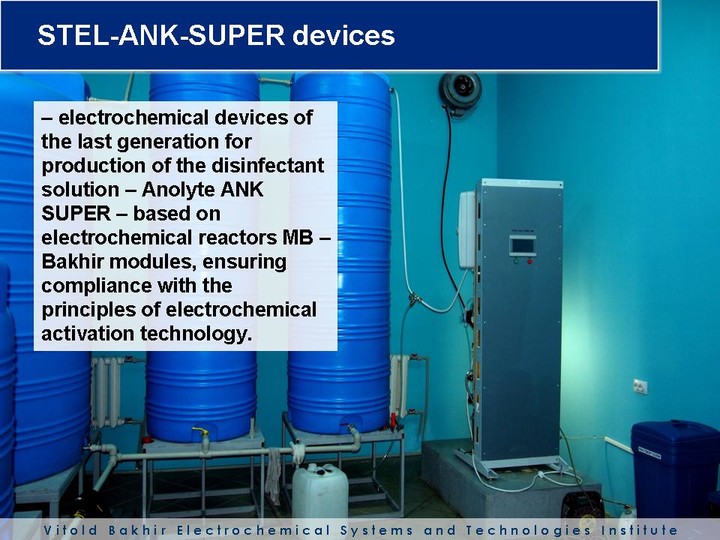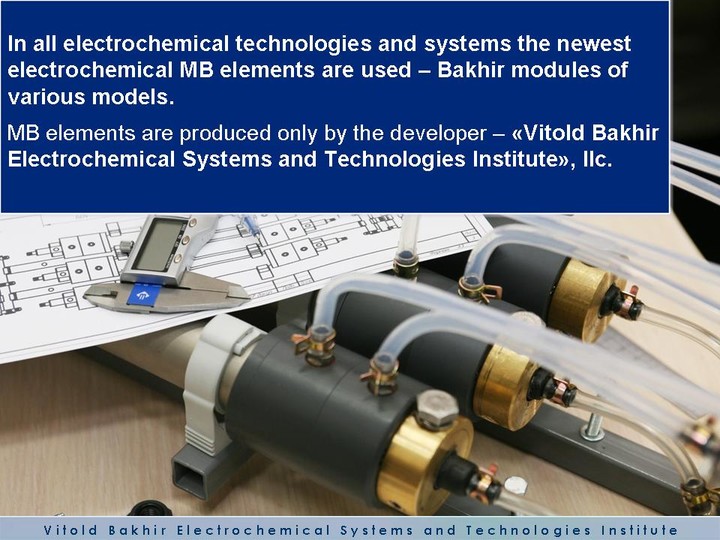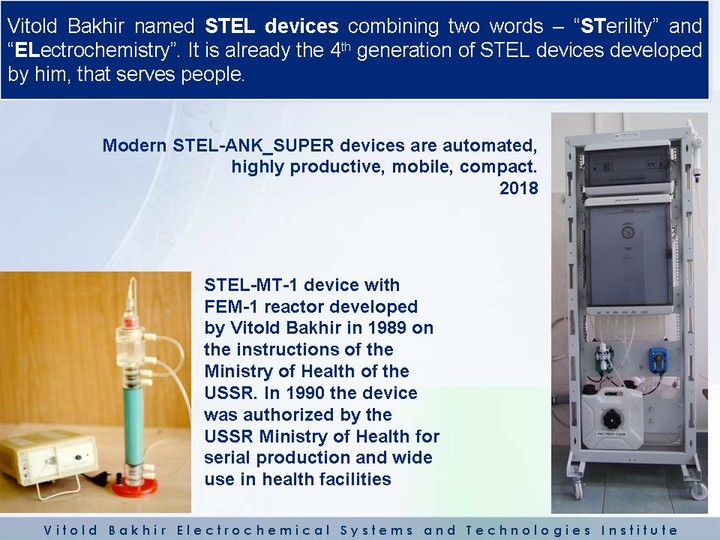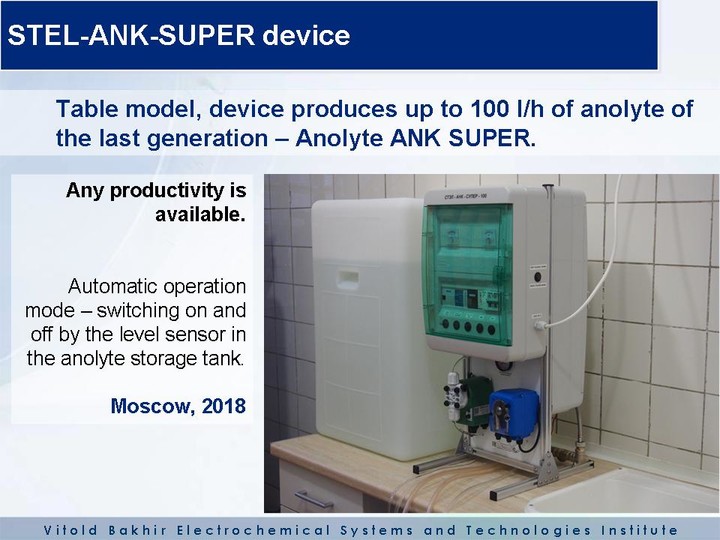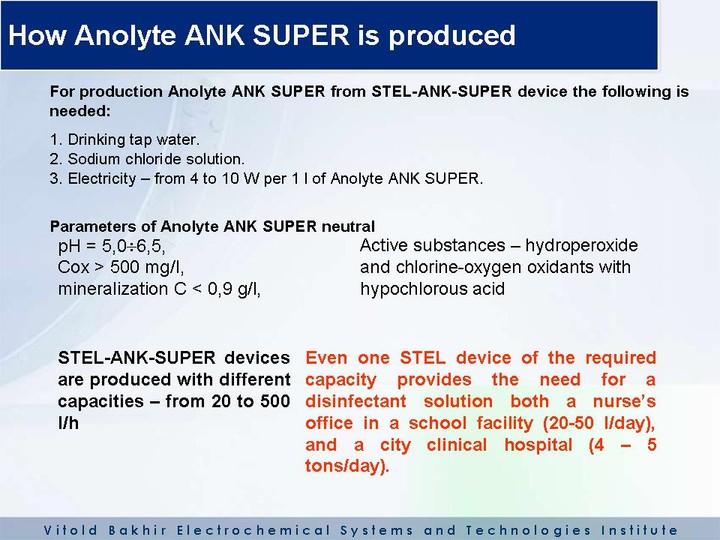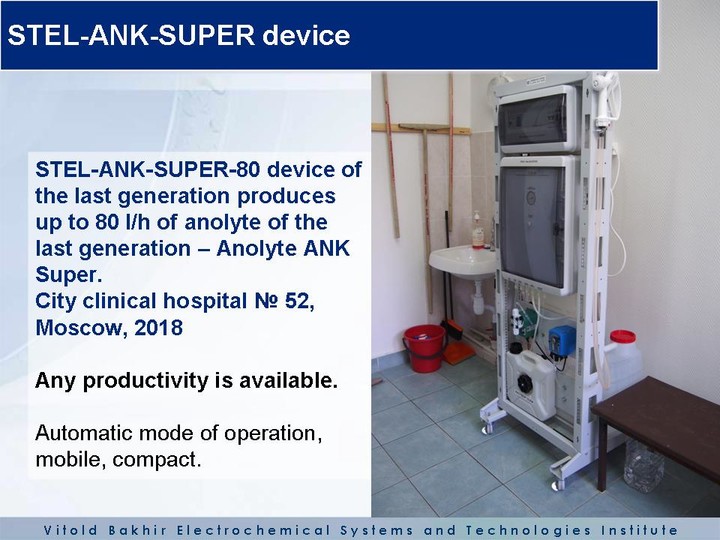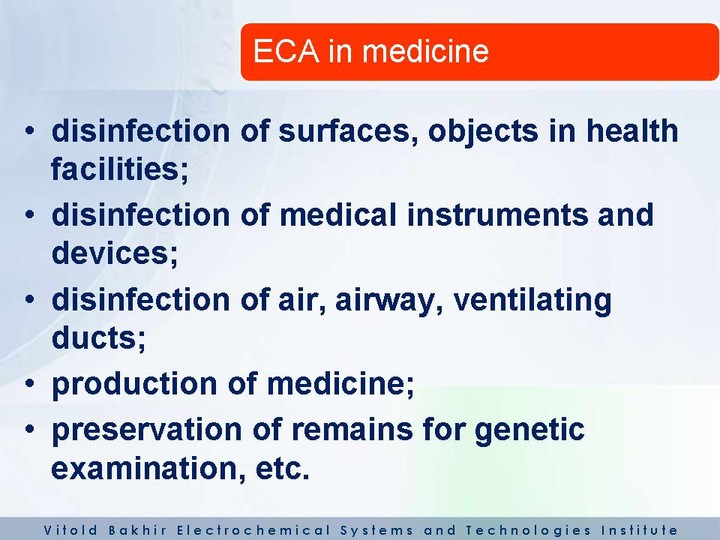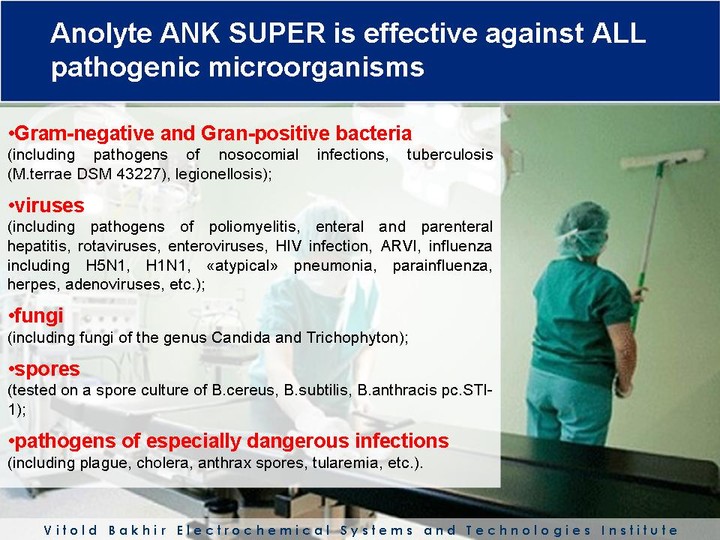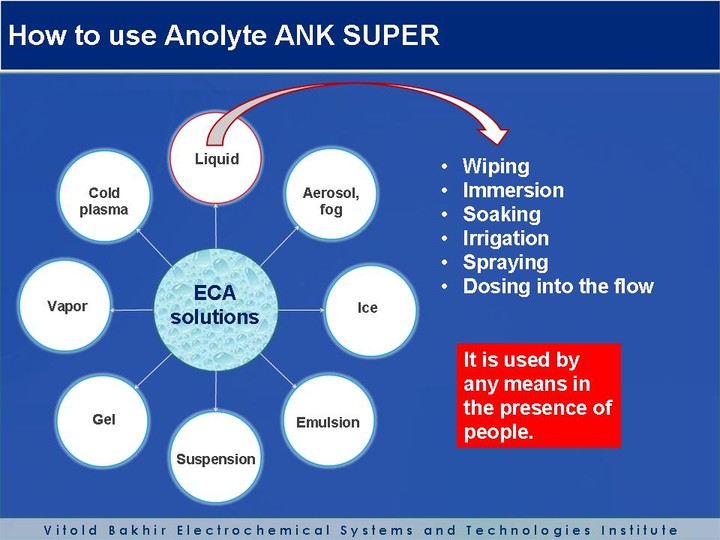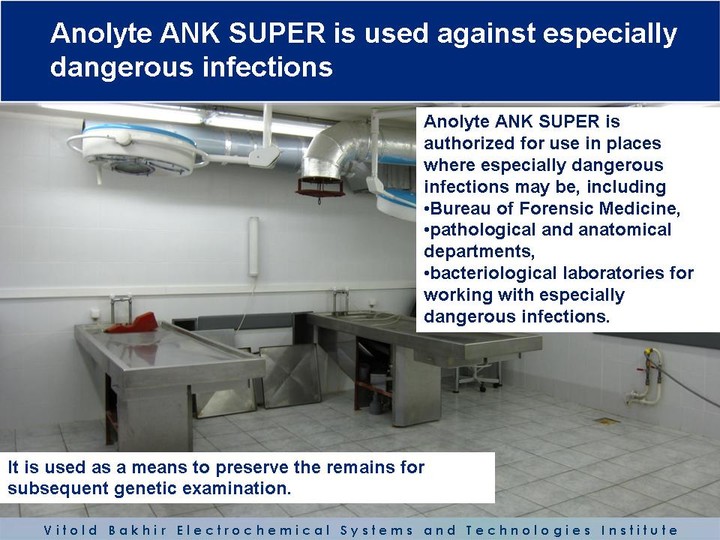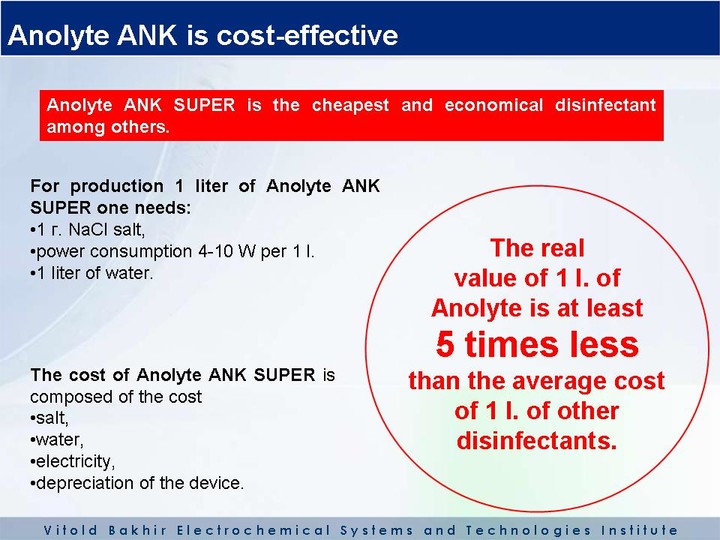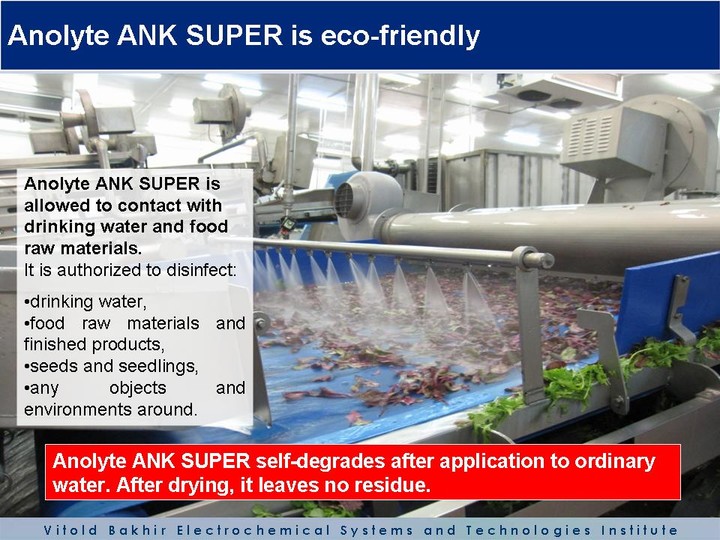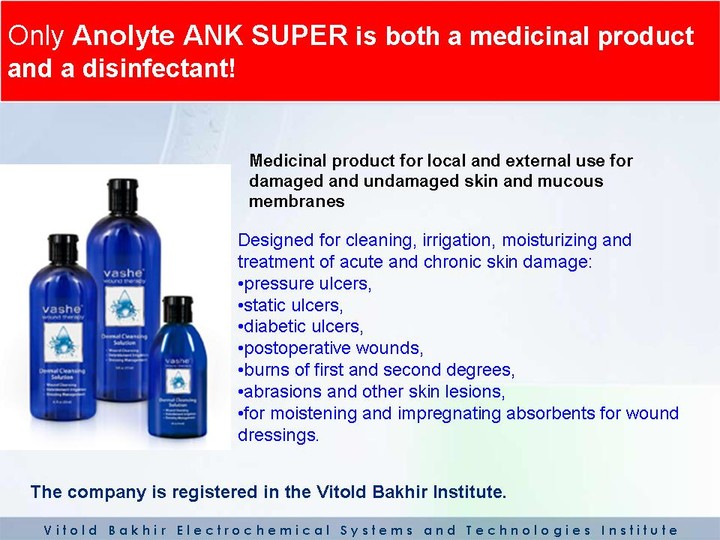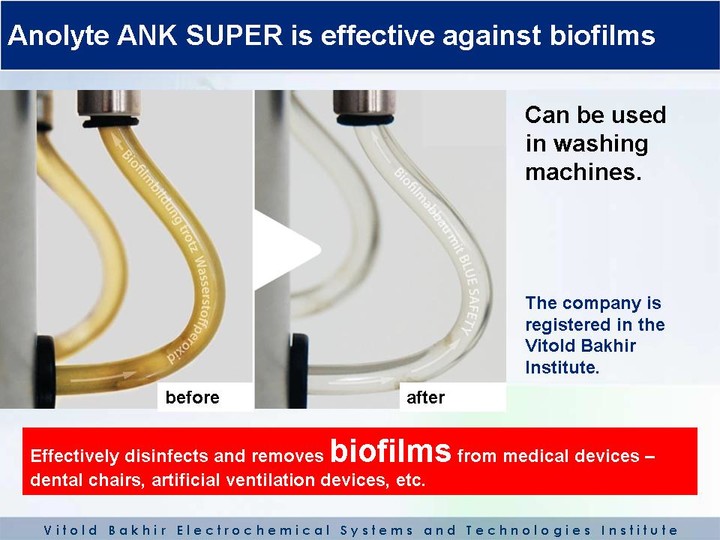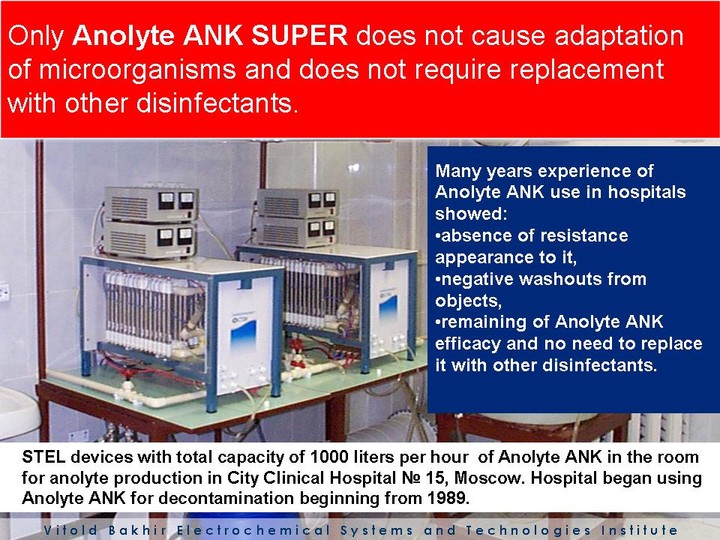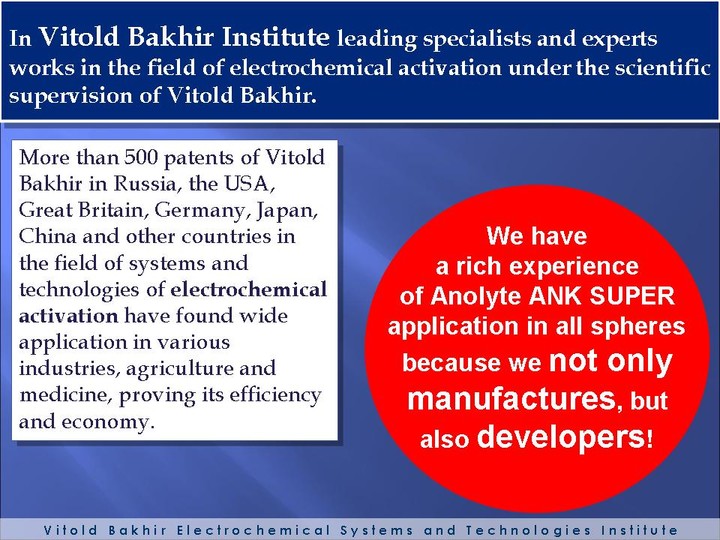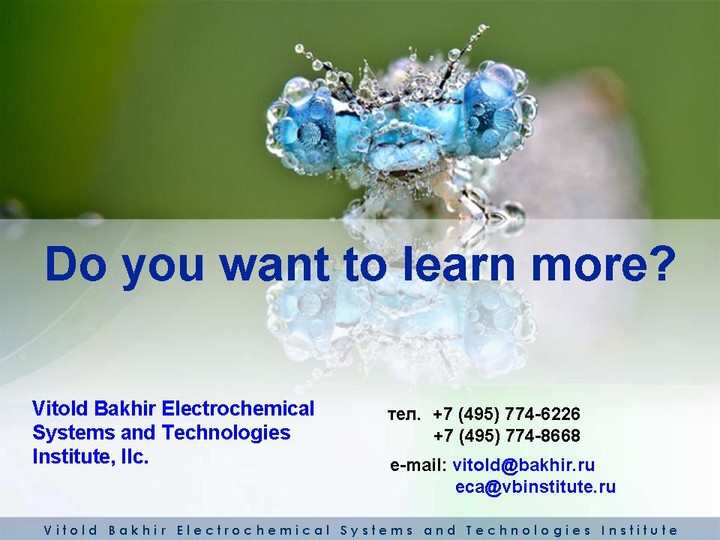 STEL-ANK-SUPER devices belong to the latest, modern generation of STEL devices for producing by electrochemical synthesis from aqueous sodium chloride (table salt) and water the best quality Anolyte ANK SUPER – universal effective disinfecting, washing and sterilizing solutionwhich is environmentally friendly and safe for humans and animals.
Fields of STEL devices application
Treatment and preventive institutions, disinfection stations, rest homes, sanatoriums, catering and public utilities, schools, kindergartens, swimming pools, small water treatment stations, etc.
Principle of operation
The initial saline solution is fed to the anode chamber of the electrochemical reactor by a dosing membrane pump. The level of salt solution in the reactor is maintained automatically by the controller of the device control unit. From a solution of common salt under the influence of electric current in electrochemical reactor of the device gaseous oxidants are formed - chlorine, ozone, singlet oxygen, chlorine dioxide, hydroperoxide sunstances, catholyte (sodium hydroxide solution) and hydrogen. Gaseous oxidants enter the mixer, where they dissolve in the prepared water and in the form of a solution are sent to the consumer. The catholyte formed during electrochemical reactions circulates through the cathode circuit of the reactor using a special pump. In a special catholyte separator, hydrogen is separated and removed to the atmosphere. Excess of catholyte is discharged into the drainage.
The device operates in automatic mode - it is switched on and off by the signal from the anolyte level sensor in the storage tank.
STEL-ANK-SUPER devices are available in any capacity from 50 to 500 l/h.

STEL-ANK_SUPER-100 device
Technical characteristics of STEL-ANK-SUPER device with a capacity of 100 l/h
Indicator name
Value
Productivity for oxidants in terms of molecular chlorine, g / h
50
Productivity for disinfectant solution Anolyte ANK SUPER with concentration of oxidants 500 mg / l, l
100
Specific electricity consumption for the synthesis of oxidants, kWh per kilogram of the mixture.
2,5 – 3,5
Specific consumption of salt (sodium chloride) on the synthesis of oxidants, kg per 1 kg of oxidants in terms of molecular chlorine.
1,8 – 1,9
Rated electric power consumption of the device (no more), W
350
Power supply of the device, V / Hz
220 – 240 /50
Nominal value on the reactor of the electrochemical unit:
- current, A
- voltage, V

50
5
Water inlet pressure, bar
2,0 - 6,0
Installation weight, kg
60
Overall dimensions (HxWxD), mm:
1600х600х600
Anolyte ANK SUPER is a universal ecologically pure antimicrobial solution of a broad spectrum of action and application that is produced from an aqueous solution of sodium chloride by introducing chlorine-oxygen and hydroperoxide oxidants into water saturated with free hydroxyl groups and hydrogen dissolved, preliminarily purified from ions of heavy metals, iron, manganese, magnesium , calcium. The optimal content of a mixture of chlorine-oxygen and hydroperoxide oxidants in anolyte ANK is 500 mg/l.
Anolyte ANK SUPER has significant advantages over other disinfectants. More details >>
Know-how
In STEL devicess (AQUATRON-05, serial production from 2016), electrochemical modular elements with increased volumetric current density are used. A new technology for production of anolyte ANK and anolytes ANK SUPER makes it possible to realize a whole range of new applications for solutions, including for the needs of the army and navy.
ANK SUPER anolyte capacity has been increased fivefold while maintaining the same dimensions of devices and the same energy consumption.
Ability to work on a capacity of any volume from 10 to 10,000 liters or more (not only from pressure water sources) and Anolyte ANK SUPER synthesis from any fresh water (from distilled to ordinary drinking water) with the productivity by oxidants indicated in the passport that allows to increase the concentration of oxidants in the tank to 5000 mg/l (5 g / l) instead of the maximum limit for all STEL devices to date - 500 mg / l (0.5 g / l)